Delft-based Hardt Hyperloop, a hyperloop network technology platform, announced that it has bagged new funding from Posco International (Korea) and Urban Impact Ventures (the Netherlands), with participation from existing EU- and US-based investors.
The Dutch company didn't disclose the exact funding figures.
The Dutch hyperloop company says it will use the capital to fund the construction of the European Hyperloop Center test facility in Groningen.
The announcement comes over a year after being awarded €15M by the European Commission (EC).
Tim Houter, co-founder of Hardt, says, "We are honoured that this impressive group of investors has chosen to place their belief in the work of Hardt, and believe this is a credibility stamp on our team and technology from both our partners and investors. We look forward to continuing to build on this trust through the thoughtful implementation of steps in our roadmap, of which the European Hyperloop Center is a big piece."
The Hyperloop
Hyperloop is a revolutionary ground transport system that lets passengers travel at over 700 miles/hour in floating pods within low-pressure tubes. 
Powered by an entirely electromagnetic propulsion system, Hyperloop will cut travel time between major cities by several hours and help the European community agenda – making the transport sector more sustainable.
Many experts, including Elon Musk, consider this an impactful alternative transportation that can relieve the pressure on water, rail, road, and air networks. 
This mode of transport also offers substantial decarbonisation and energy efficiency improvement in line with the EU Green Deal agenda and the UN Sustainable Development Goals (SDGs).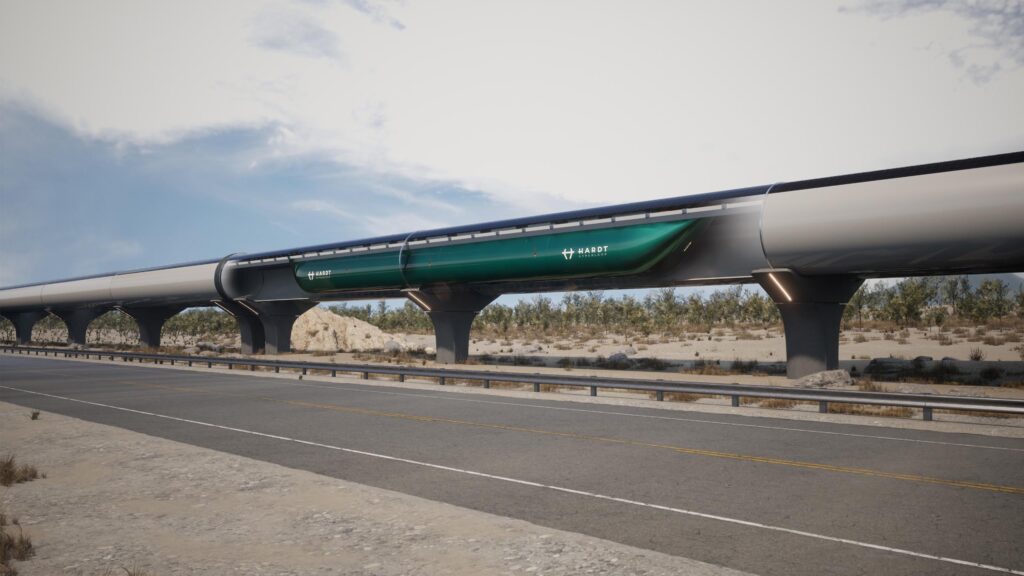 Hardt Hyperloop: What you need to know
Founded by Tim Houter, Mars Geuze, Marinus van der Meijs, and Sascha Lamme in 2016, Hardt is a technology company focused on developing the hyperloop network.
The founders were part of the TU Delft team that won the first SpaceX Hyperloop competition organised by Elon Musk in 2017.
The Dutch company has developed Hyperloop Lane Switch technology (HLS), enabling hyperloop vehicles to change lanes without additional or moving components. 
This means that even when vehicles travel at high speeds, they can effortlessly switch routes and merge in and out of the network.
Hardt is building an extensive network of industry partners, cities, logistics, and transportation hubs, and is working closely with the European Commission on developing the European hyperloop regulatory framework.
The company has already partnered with industry giants such as Deutsche Bahn, Tata Steel, and InnoEnergy to access the resources they need and undertake other initiatives to boost collaboration.
The Investors
Urban Impact Ventures is a Dutch impact venture capital firm focused on the sustainable transformation of the urban environment with decarbonisation and circularity as core impact themes. 
"We are very excited to invest in the company and support the inspiring Hardt team in its future endeavours. Hardt is a pioneer and leader in developing hyperloop network technology, enabling fast, efficient, and clean transportation of passengers and goods between cities. We share Hardt's vision that the hyperloop is an impactful alternative transportation modality that can relieve pressure on the already congested water, rail, and road networks and avoid short-haul air transportation while accommodating ongoing growth in transportation demand. As such, Hardt develops one of the cornerstone solutions required for realising the EU's road to net-zero mobility ambition," says Hans van Houwelingen, managing partner of Urban Impact Ventures.
POSCO International is a South Korean trading company and a POSCO Holdings subsidiary. It has partnered with Tata Steel Europe to develop a hyperloop-specific steel alloy used for the hyperloop tubes at the European Hyperloop Center.
"As a trading and investment company, POSCO International is committed to the success of creative and futuristic eco-friendly businesses such as hyperloop. We are proud to expand the collaboration between POSCO Group and Hardt Hyperloop through this investment," says Do-Kil Oh, head of POSCO International's Energy Steel Division. "POSCO International will be the biggest supporter of future Hyperloop projects through our global presence. We are excited about being a part of the next steps of Hardt Hyperloop and its associated ecosystem, of which the European Hyperloop Center is a major piece of global hyperloop test infrastructure."